NCCU CENTENNIAL SPORTS HISTORY: DID YOU KNOW?
Kyle Serba 05/24/10

Legendary Harlem Globetrotter Charles "Tex" Harrison Earned All-American Honors at NCCU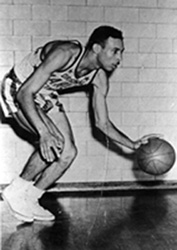 DID YOU KNOW? Charles "Tex" Harrison, one of the most esteemed members of the Harlem Globetrotters with more than 50 years dedicated to the organization as a player and coach, was a basketball all-American at North Carolina Central University.

Harrison scored 1,304 points during his career with the Eagles from 1950-54, departing NCCU as the school's second-leading scorer.

After graduating from NCCU with a degree in physical education, "Tex" was discovered by the basketball ambassadors in 1954, when he faced the Globetrotters as a member of the College All-American team during the World Series of Basketball. He spent 18 years as a Globetrotter player before becoming a coach.

During his illustrious career with the Globetrotters, Harrison has had tea with Queen Elizabeth, caviar with Nikita Khrushchev, and an audience with three Popes. Harrison estimates he has traveled to more than 100 countries, playing and coaching before millions of fans.

Harrison has done everything from playing alongside the immortal Wilt Chamberlin, to joining several Globetrotter teammates on the "Harlem Globetrotters Popcorn Machine," a 1972 television variety series where players sang, danced and performed comedy sketches.

Born in Gary, Ind., Harrison went on to star at Wheatley High School in Houston, Texas. "Tex" received his "Legends" Ring, presented to those who have made a major contribution to the success and development of the Globetrotters organization, on Jan. 26, 1996, in Houston, where he resides.

Harrison is still an active member of the Globetrotters coaching staff.

As part of North Carolina Central University's Centennial celebration, the NCCU Department of Athletics will post sports history facts from the institution's first 100 years to its official web site every week during the year-long observance.